Welcome to the website of Michael Grab Architect!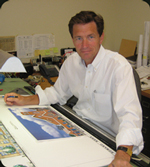 Michael Grab Architect is a full service architecture, planning, and interior design firm, offering professional services for all phases of a project development - from site selection and master planning through building programming, design, and construction.
Please take the time to learn more about our firm and what we can do for you. In working with new clients, we look forward to creating buildings that are a reflection of the needs of the people who use them and that continue to make a positive contribution to their environment.
Thanks for visiting! We look forward to working with you in the future.
Michael Grab Architect:
Click on a link below to learn more: